Yipee, I finally am going to get my cards up someplace besides my own blog. Susie Q Scrapbook is starting a Card Sketch a Day Blog, and I'm making three cards for it. The first one will debut on Sept 11.
Here is a link to her blog.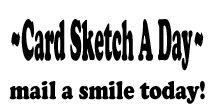 http://cardsketchaday.blogspot.com/
In other news, we started back to school. As every year begins, I have mixed feelings about going back to school. I like meeting my students and getting back to a routine, but I also feel sad that summer is over. My unlimited time with Andrew is over, and we have to get back to business. His biggest hurdle right now is being able to do 100 addition facts in 5 minutes. That's a lot for a 2nd grader! We'll keep working on it though.

But, this year is especially exciting, because in just 18 weeks we'll have a new little person joining our lives :) What could be more exciting than that.